EDWARD "Teddy" PACE 1873-1960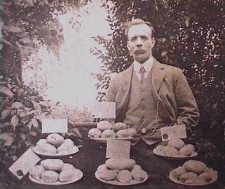 EDWARD "Teddy" PACE
a travelling salesman - hardware
friend of a Mr. BUCHANAN
at HAVELOCK, Ontario, also a travelling shoe salesman.
It is of interest - his brother CHARLES VICARAGE PACE is buried at LETHBRIDGE, Alberta amongst several BUCHANAN graves. One was a Reverend Buchanan. I wonder if these BUCHANAN people at LETHBRIDGE were connected to CV Pace's brothert EDWARD's friend?
Later, both men and families settled at Havelock, Ontario, next town east of NORWOOD where SQUIRE-PACE families settled.
EDWARD active in church at Havelock and community contributor. He would hire bus tours and have community picknicks at his Cordova Lake cottage. Remembered by town hall staff when I visited Havelock.
EDWARD operated the general store at CORDOVA MINES, a few miles north/east of HAVELOCK when gold was mined there and had a cottage on Belmont Lake.

EDWARD PACE and WINNIFRED
are buried at HAVELOCK, Ontario
---
sister MARY ANN wed SAMUEL HAYNES, settled LONDON, Ontario
brother CHARLES wed ANNIE ARCH of Bloxwich - family at Montreal and Ottawa,
two aunts Mary Ann SQUIRE nee Pace formerly of Short Heath 1881 and Lethbridge NWT (Alberta) & EMILY SQUIRE nee PACE both married SQUIRE brothers of Willenhall (also PACE descendents) & uncle JOSHUA PACE all lived at Norwood, Ontario at this time and had established businesses. James Lane SQUIRE was a justice of the Peace.
---
FRANCES EMILY PACE
married
GEORGE EMERY
in Mar 1891Q
and remained at BRIDGTOWN.
1891 Census
at 175 East St, Bridgtown was:
GEORGE EMERY
head 27 ag lab b Cannock
FRANCES E
wife b Shareshill

Next door was:
JOSEPH EMERY, head, 71,
retired brickmaker, b Cannock
MARGARET, wife, 61, b Cannock

1901 Census
at 14 Longford Rd
Bridgtown, Cannock, Staffordshire
GEORGE EMERY
head, 37 coal loader (above ground)
b Bridgtown
MARY
wife 32, b Bridgtown
JOSEPH - son, 9, b B'town

possibly this JOSEPH and a brother REGINALD went to TOLEDO Ohio - in the 1950s my dad and brother Alan visited at TOLEDO and there was a JOE & REG and some daughters

ALBERT
- son, 1, b B'town
MARGARET
- mother, widow, 71, b Btown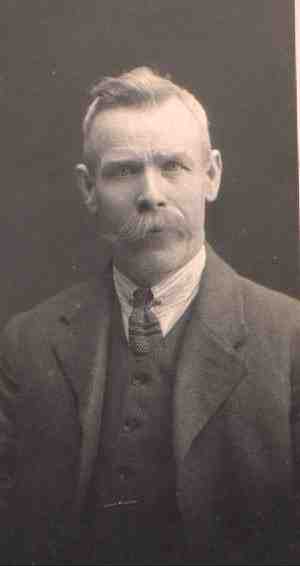 click on picture for CHARLES' ambition for family when they arrived in Canada from England
CHARLES VICARAGE PACE 1870-1926
b 18 Dec 1870 LANEY GREEN, Shareshill, Staffordshire
buried 1926 at LETHBRIDGE, Alberta, Canada
CHARLES VICARAGE PACE 1670-1926
CHARLE'S father EDWARD died March 1877, when he was seven years of age. His mother EMILY remarried to - REUBEN DUDLEY - probably after 1881 census was taken.
CHARLES, with brothers, sisters were brought up in DUDLEY family with DUDLEY children.
By 1901 EMILY was a widow again - another mining accident, according to my conversation with local Essington historian JIM EVANS who knew members of the DUDLEY family and supplied DUDLEY family photo.
CHARLES, in his 20s, visited CANADA in 1890s - his aunt and uncle MARY ANN & HENRY SQUIRE at LETHBRIDGE, formerly SHORT HEATH, Staffordshire
- 1881 census - SHORT HEATH
- 1891 census - LETHBRIDGE, NWT (Alberta)
...North West Territory - became ALBERTA 1905
CHARLES returned to England and married Annie ARCH 1898 of Blakenall Lane, BLOXWICH.
First four children - born in Bloxwich.
Family moved to ABRAM, near WIGAN, Lancashire around 1906 where four more children were born.
CHARLES, a coal miner, returned to ALBERTA Canada around 1920 with son CHARLES and JAMES HOLDING (son in law) of WIGAN, all worked in coal fields of southern Alberta.
The ORIGINAL PLAN was to go to the United States where CHARLES' elder sister FRANCES EMILY and family had settled.
PACE-EMERY-Toledo, Ohio
when wife and family arrived in Canada (1926).

CHARLES died of cancer before his family arrived in Canada.

CHARLES' family settled at MONTREAL where Annie had a relative, JIM COWLEY who may have been son of an ELIZABETH COWLEY - showed in 1881 census-BLOXWICH as servant in ARCH FARM at BLOXWICH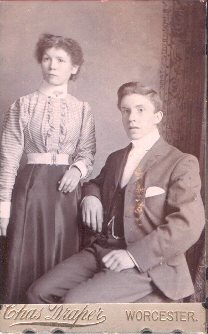 EMILY FRANCES WALTON
1880-1958
and husband
Mr. WALTON
before going to AUSTRALIA
EMILY FRANCES and/or EMILY D - went to MELBOURNE Australia after marriage, wrote to brother EDWARD back in WALSALL until 1930s, said brother RON, of Brownhills, Walsall.
Around that time -1930s - EDWARD may have gone to CANADA where he had family
Thanks to Graham PRICE, Melbourne family researcher, who provided info on grandfather's sister of MELBOURNE. - GTPace
Possibly Mr. Walton worked for, or was related to, the Preston auto business people!!! So, I would be looking for a WALTON family in PRESTON, and surely there would only be one Emily Frances WALTON in a household in the suburb of that name? When I first looked at your email re. Frances Emily, I thought it related to the auto people PRESTON MOTORS, who are very big Ford dealers here - have been for a very long time, but then I found this on the death database to '85. - Graham PRICE
---
EDWARD PACE 1845-1877
died young at age 31 - SHARESHILL
- due to a mining accident - living on a board until his death

widow EMILY then re-married
REUBEN DUDLEY

last child EMILY FRANCES born 1880 had DUDLEY as father as stated on her death record at Preston, Melbourne Australia in 1958

Emily Frances Walton

Reg. No. 6265
Year - 1958
Age 77
WALTON Emily Frances
Father: DUDLEY, Reuben
Mother: CUTMORE Emma (Emily Cullwick)
Place of death: PRESTON (location)
MELBOURNE, Australia