1 JOHN PACE 1665-1720
+ 1st wife - ELIZABETH

Thought to be NEWSOME
but no proof has been found.
d 30 Dec 1717 bur 3 Jan 1717/8
- Middlesex Co. Parish register
One son was named NEWSOME PACE
+ 2nd wife - MARY MURRAY

10 Feb 1718 marriage to JOHN PACE
20 Jan 1720/21 death of JOHN PACE

26 Sep 1721 marriage to ALEXANDER HOW (John's widow)
---
Jack Pace of Williamsburg says:
We have a good history of the children of John and Elizabeth. Even though we do not have birth dates for all children we can build a logical sequence of birth.

We also have a good history of the third generation.

A fact we also have is that John Pace was a Lt. in the Middlesex Militia in 1702.
Here we need to consider that Militia members were between the ages of 21 and 45.
Therefore, in 1702, John was at least 21 and younger than 45.
He purchased 150 acres from Nickles in 1693 at which time he would be 21 or older
But if 21 in 1693, he would be 30 in 1702.
He also would be 22 when his daughter SARAH was Baptized in Christ Church Parish.
He would be 30 when MARGARET was born,
she being probably the fourth child - would make this believable.
The youngest child GEORGE was born in 1715
and John would have been about 45 years old.
Elizabeth his wife died in 1716, he remarried and died a year later in 1720.

If the above calculations are correct he died at age 50. Now in reviewing his grandchildrens' birth dates, he had only one grand child when he died, that was Sara's daughter Elizabeth who was born in 1719. He would end up having 46 grandchildren but only one born before his death. This indicates to me he died young. This would set his birth year about 1670.

John Neals sale was 02, Oct 1644, and John Pace bapt. in Hungers Parish was in 1661. If I am off 10 years the Hunger Parish, Accomack County John Pace could be a stretch, but I would need to see some collateral material. There is not a piece of information so far found that would suggest this.

I have search for several years and can not find any references to John Pace of Middlesex other than the data gathered after the 1693 land purchase. A Mary Murrey, daughter of Alexander and Mary, born 22, Nov. 1674. We know not that this was the Mary Murray that John married but I have read others researchers works that list John Pace's wife Mary as daughter of Alexander Murrey, I have seen no documentation. This was a large family in Middlesex.

I am excited that you are focusing in on John of Middlesex and Thomas of Rappannock and will assist as asked.
Jack Pace, Williamsburg Virginia.
29 Jun 2002

---

- Charles HARTLEY recently received a photocopy of John's will from the Middlesex County Circuit Clerk's office and says "JOHN PACE of Middlesex County, Virginia, is my ancestor through his eldest son, JOHN PACE who married ELIZABETH MONTAGUE - click here - to see photocopy of original 1720 will of John Pace mentioning his survivors. This looks like a common sence place to start.

Hunger's Parish

"A true account of such persons as have bin borne, Baptized, Married and buried in Hungars Parish from ye 25th of March 1661 to ye 25th of March Anno 1662."

CHILDREN

Richard Johnson ye sonne of Tho and Ann Johnson - Apr 1st

Bridgett Robinson ye daughter of Jno. and Mary Robinson - Apr 2d

John Pace ye sonne of Jno and Mary Pace - Apr 2d

James Bruce ye sonne of James and Mary Bruce - Apr 2d

Thomas Martiall ye sonne of Tho and Mary Martiall - Apr 2d

Mary Obin ye daughter of Robert and Ann Obin - Apr 2d

Bridgett Henderson ye daughter of Gilbert and Mary Henderson - Apr 2d

Ann Mapp daughter of Jno and Mary Mapp - May 5th

In the same year a John Pace is shown as having died. Whether this was the infant, or his father, is not clear."

While this John Pace would have been born in the right time frame, and in near enough proximity to Middlesex County to have been our John of Middlesex, do we have any other information that helps to confirm or eliminate him as one and the same?

Hungars Parish was in Northampton County VA. Northampton County today is located on the southern tip of the Delmarva Peninsula that separates the Chesapeake Bay from the Atlantic Ocean. Middlesex County VA is located on the Rappahannock River which flows into the Chesapeake Bay directly across from Northampton County VA.

Charlie - Hungars Parish Records - John Pace - Pace-L 11/18/04

---

NEWSOME
PACE MAIL-LIST ARCHIVES contain emails from researchers CREDITS

- Ellen Mizzell (also a Newsome descendant)
- Jack Pace/Williamburg. 05/09/04 PACE-L@rootsweb.com

Ellen states:
So many Newsome descendants have embraced this purely speculative idea and gone to Lancashire looking for Newsham Hall, that a well-intentioned but thoroughly misleading road sign has been erected in the vicinity which reads:

"Newsham, an agrarian settlement located in this vicinity. Its origin predates the 1500s. It takes its name from the nearby estate of Newsham Hall. Many Newshams or Newsoms in America claim lineage to this area due to William Newsham migrating to the Jamestown Virginia Colony in 1635."

But it seems there is no evidence to indicate that a member of that family emigrated to Virginia. It was just an idea of Dr Holtzclaw's, based on nothing more than the similiarity of name.

My atlas shows two places called Newsham in Yorkshire, one in Lancashire, and one in Northumberland. There may well have been more, in the late medieval period, given that it means "new home". Plenty of new homes around, over the centuries. Probably didn't cost an arm and a leg to buy one, in those days.

- Jack Pace/Williamburg. 05/09/04 PACE-L@rootsweb.com

WILLIAM NEWSOME, planter of James City
later Surry County Virginia was possibility the grandson of Robert Newsom of NEWSOME HALL in county of Lancashire, England.

Early tradition is that he came to America from Dublin, Ireland. It is quite possible that he was the "William Newsom" who came to America aboard the GEORGE in 1635. In 1636 he was granted 550 acres of land in the county of JAMES CITY toward the sunken March for the transportation of 11 persons to Virginia, including two of his wives, Penelope Ramsey and Sarah Fisher.

William Newsom (1614-1657/1667) married
1 Penelope Ramsay
2- Sarah Fisher
3- Elizabeth Wilson and possibly
Geratude after 1636.

Second Generation
William Newsom (1648-1691)
m. Anne Sheppard Hart (abt.1645-1710/11)

Third Generation
Children of William and
Anne Sheppard Hart
(after Williams death his widow, Anne married George Foster)

1- William Newsom 1672-1751)
m. Phyllis (bef. 1767)
2- Elizabeth Newsom (abt. 1673)
3-Anne Newsom (abt. 1678)
4-John Newsome (1674-1724)
m. Sarah Crawford d/o Robert Crawford and
Elizabeth Carter
5-Robert Newsom (1681-1757)
m. Elizabeth moved to Isle of Wight Co.
6-Thomas Newsom ( 1685-1745/6) to Isle of Wight Co
m. Eliza. Crawford sister to Sarah

For those who believe that #2 Elizabeth married John Pace Senr.of Middlesex, and considering naming patterns during that time it is odd the Paces did not name any children Anne, Robert or Thomas, Elizabeth or Alice.

When Anne Sheppard Newsom died, she left her land to her sons and personal items to daughters Anne and Elizabeth.

For those who want to further study this family - CLICK HERE

Anne Sheppard's father was Maj. Robert Sheppard and her mother Elizabeth was a daughter of William Spencer who arrived in Jamestown in 1607 and survived. His wife was Alice. Note the spelling Newsom not Newsome. Jack Pace/Williamburg. 05/09/04 PACE-L@rootsweb.com
FROM VIRGINIA RECORDS -
it's been found and been said
- The first official record of JOHN PACE Sr. in Virginia
was his purchase of 150 acres of land from HENRY NICHOLS
JOHN PACE Sr. bought 150 acres from HENRY NICHOLS:
This Indenture made this seventh day of August One thousand Six hundred ninety. Between Henry Nicholls of the County of Middlesex in Virginia of one part and John Pace of the said County of the other part. Witnesses that the said Henry Nicholls for and in consideration of the sum of seven thousand pounds of good sweet scented tobacco __ to him in hand ------paid by the said John Pace-- receipt whereof and himself to be therewith fully satisfied, he the said Henry Nicholls doth hereby acknowledge and thereof and there from do clearly and absolutely --release, Exonerate and discharge the said John Pace, his heirs and assigns from every part and parcel thereof have given, granted, bargained, sold------and confirmed ----sell----confirm unto the said John Pace his heirs and assigns one hundred and fifty acres of land be the same more or less situated in the County aforesaid being part of a great divided of land belonging to the said Henry Nicholls bounded as follows. Beginning at the corner of MARVELL MOSELEY'S land and ---land sold by said Nicholls to Roger Pritchard and running then a long a line of marked trees dividing this land from the land of said Pritchard to a stake by a corner Oak.
In the Presence of
Tobias Mickleburrough
Simon Zanssens?
Marvel Moseley
Signed Sealed and Delivered
Henry Nicholls
---
The name MARVEL MOSELY appears again

Jack Pace of Williamsburg writes on Jan.7th,2013 - Pace-L:
MARVEL MOSLEY was a neighbor of JOHN PACE Sr. of MIDDLESEX
He had a son JOHN MOSLEY who, like JOSEPH PACE,
moved from MIDDLESEX to GOOCHLAND County.
I would, from deeds, believe that JOSEPH went in about 1736,
I believe his last child born in MIDDLESEX was in 1731 and SARAH, his daughter, was born in GOOCHLAND in 1734 (not proven).
He purchased land on LITTLE BYRD CREEK from JOHN MOSELY, son of Marvel.
JOHN MOSELY married MARY NICHOLS in Middlesex 10, Oct. 1717
JOSEPH married ANNE BASFORD 24, Oct.1717.
MARY NICHOLS was probably the daughter of HENRY NICHOLS Jr. who sold 150 acre plantation to JOHN PACE Sr.
I would guess - neighbors and friends
(says Jack)
---
Jack Pace writes 23 May 2009
JOHN PACE (Pacey) Middlesex/Shropshire
There are several sources for John Pace of Middlesex so the following is an attempt to discard the "I think" to the "I know".
Mainly the sources are
Christ Church Parish Register,
Middlesex County Court records
and Court records from surrounding counties.
JOHN PACE died in 1720 (CCPR.p133)
He left a will and a recorded inventory of his estate.
He purchased 1 or 2 properties,
The first (150 acres) from Henry Nicholls (1693) which states both Nicholls and Pace were from Middlesex County (Midd Court Records),
This tells us that the Paces were in Middlesex prior to 1693) This deed is recorded at County Court House.
The second property
was purchased from Pritchard (1699)
and the deed (50 acres) reads in part,
John Pace of Lancaster County.

Many believe that this was a recorder error for in 1704 John Pace paid Quit Rent on 150 acres.(Va.Quit Rent records 1704).
John Pace Jr would be too young to have been the purchaser.
In 1702 Lt. John Pace
was a member of the Middlesex Militia
(Index of Calendar of State Papers, Colonial Series #20 pp. 158&159)
It is my understanding that Militia members were between 17 and 40 years but being an officer may change that. By comparing his will and the names of his children we can logical connect several children with entries in the Christ Church Register.
First
Sarah Pace d/o (dau of) John and Elizabeth, was baptised 22, April 1694 (CCPR p.35)
John Sr. states that John Jr. was eldest son John Jr. married Elizabeth Montague in 1717 (CCPR p.116)
With out parent permission he would need to be 21, making his birth year ca. 1696.
Margaret dau. of John and Elizabeth was born in 1701/2 (CCPR p .38)
She was 19 when her father died (1720) and she married in Sept. 22 1721, Wm Johnson (CCPRp.117.
Her mother had died in 1716, buried 01 Jan. 1717 (CCPR p.129)
The years between Sarah and Margaret are five. John, Joseph and Benjamin are not listed in the Birth/Bapt records of Christ Church Parish.
Joseph was left the plantation with a part to MARY MURRAY (born 22, Nov. 1674 (CCPR p.6) John Paces second wife.
For some reason the eldest
did not get the plantation.
Joseph married Anne Basford 18, April 1721.
If he was of legal age his birth year would be 1700 or before,
but Margaret was born in 1701/2 and unless they were twins his birth year would be earlier or later,
Joseph witnessed the will of Thomas Cary in 1720 and if of age then his birth year would be 1698/9. That leaves Benjamin, who John, in his will named his three youngest sons, Benjamin, Newsome and William.
George died as an infant in 1715 (CCPR p.62).
It would be logical that Benjamin was the oldest being first named. Newsome was bapt. 6 Feb 1708 (CCPR p.55) If logic holds Benjamin was born before 1708. So lets review what we know. Sarah was bapt 1694, Margaret was born 1701/2, Mary 1704 (CCPRp.43) Listed as Mary Pearce., Jane 1706 (CCPR p.47, Newsome 1707/8.
The only place to fit in John, Joseph and Benjamin is between Sarah and Margaret or after William, who was born ca.1712, but if John was eldest son, that would not be possible. That leaves before Sarah or between Sarah and Margaret.
Evidence leads one to believe that, between Sarah and Margaret, is most logical.
My guess would be
John Jr. b. ca 1696,
Joseph b. ca1698,
Benjamin b. ca.1700.
Benjamin's first listed child, Elizabeth born 17 Jan and Bapt.21 Feb. 1730. it seems probable that a son Benjamin was born ca. 1728 and that is the Benjamin who married Francis Williamson and died in King and Queen County in 1781 just before son John went to Revolutionary Army in place of his older brother Benjamin who needed to stay home and tend the land and family. This is sourced by John (Benjamin -Benjamin John of Midd)) petition for Rev. War pension.
Bruce Howard, in his book, believes that Benjamin (Benjamin--John of Midd) went to Fluvanna Co. and married but land and tax records prove he stayed in King and Queen Co. I hope this makes some sense.
But again interwoven is someconjecture that makes it less than totally proven and less than pure, leaving room for each researcher to add or detract as additional facts surface. Jack Pace / Wmsburg,Va..
---
PACE names
from Christ Church Parish Registers
Middlesex Co. Virginia
BIRTHS
Sarah d/o John & Elizabeth Pace bap 22 Apr 1694
Marg't d/o John & Elizabeth Pace b. 15 Mar 1701/2
Mary d/o John & Elizabeth Pace bap 23 Jul 1704
Jane d/o John & Elizabeth Pace bap 22 Sep 1706
Newsome s/o John & Elizabeth Pace bap 06 Feb 1708
George s/o John & Elizabeth Pace b.08 Jan 1715 Bap16 Jan.

John s/o Joseph & Ann Pace b. 14 Mar 1721 Bap 08 Apr.
George s/o Joseph & Ann Pace b. 10 June 1725 Bap 04 July
Josiah s/o Joseph & Ann Pace b. 31 May 1727 Bap 18 June
Daniel s/o Joseph & Ann Pace b. 26 Feb 1729 Bap 22 Mar
Lettice d/o Joseph & Ann Pace b. 26 Sep 1731 Bap 17 Oct 1731

Elizibeth d/o Benjamin and Mary Pace b. 17 Jan 1730 Bap21 Feb
Joseph s/o Benjamin and Mary Pace b. 22 Jan 1732 Bap 11 Feb
Mary d/o Benjamin and Mary Pace b. 20 Jan 1734 Bap 16 Feb
Ann d/o Benjamin and Mary Pace b. 20 Aug 1737 Bap 25 Aug

Mary d/o John Jr.& Elizabeth Pace b. 18 Apr 1735 Bap 11 May
Abraham s/o John Jr. & Elizabeth Pace b.23 July 1733 Bap 17 Aug

William Pace Illegitimate son of Mary Pace b. 28 Mar 1729 Bap 06 Apr

Elizabeth d/o William & Hannah Pace b. 18 Apr 1735 Bap 11 May
John s/o William & Hannah Pace b. 31 Oct 1740 Bap 23 Nov
Wm. s/o William & Hannah Pace b. 06 Aug 1742
Hannah d/o William & Hannah Pace b. 09 Mar 1744/5
Benjamin s/o William & Hannah Pace b. 28 Jan 1747/8
Ann d/o William & Hannah Pace b. 18 Nov 1750 Bap 20 Dec

MARRIAGES
Pace, John Jr. to Elizabeth Montague 24 Oct 1717
Pace, John to Mary Murry 10 Feb 1718
Pace, Sarah to Wm. Davis 16 Jun 1718
Pace Joseph to Ann Basford 18 Apr 1721
Pace, Margaret to William Johnson 22 Sep 1721
Pace, Mary to Alexander How 26 Sep 1721 (John's widow)
Pace, Mary to Ignatius Tureman 03 Jun 1731
Pace, Jane to George Blackley 16 May 1733
Pace, William to Hannah Booten 26 Dec 1733
Pace, Elizabeth (John Jr's widow ) to John White 15 Sep 1735
Pace, William (s/o Benj.) fo Cressey Sanders 04 Nov 1773

DEATHS
George Pace d. 19 Jan 1715 bur 21 Jan
Elizabeth Pace d. 30 Dec 1717 bur 3 Jan 1717/8 (John's 1st wf.)
John Pace d 20 Jan 1720/21
George Pace d. 10 Sep 1725 bur 12 Sep
likely s/o Joseph & Ann Pace b 10 June 1725 Bap 04 July
Susan Pace d. 06 Oct 1733
John Pace d. 25 Nov 1734
Abraham Pace d. 27 Nov 1734 (son of John Jr)
Joseph Pace d. 18 Jun 1736 (son of Benj.)
Elizabeth Pace d. 06 Apr 1740
John Pace d. 06 Sep 1742
William Pace Jr. d 10 Oct 1745 (son of Wm & Hannah)

Happy Hunting
Jackie Whitworth
2 Feb 2000 PACE-L@rootsweb.com

---

From the will of
John PACE of Middlesex County, VA
1720

which seems to indicate family members
with thanks to Charles Hartley

HARLEY HISTORICAL SITE
John Pace will



JOHN PACE
+ ELIZABETH (possibly NEWSOME)

JOHN PACE
+ ELIZABETH MONTAGUE

I give to my eldest son John Pace all my carpenders joyners & turners tools & in jenerall saving one large saw one small hand saw two chisels one gowage one addze & one broad ax for the plantation.


JOSEPH PACE
+ ANN BASFORD - m 18 Apr 1721

I give to my son Joseph Pace all my Land & Plantation whereon I now live only that my wife shall possess & injoy her life in one part of it, that is to say to begin at a white Oak in the head of the Spring Branch and to run a Straight Course to a Corner Tree being a Red Oak that stands by Mr. Jno Segars the said Land to include the Plantation for the use of my Wife during her life and at the Death wholely to return to my Son Jos Pace as aforesaid.


MARGRETT PACE
+ WILLIAM JOHNSON m 22 Sept 1721

I give to my Daughter Margrett Pace one Large Looking Glass (mirror - English still use this term) which is now in my house.


MARY PACE

I give to my Daughter Mary Pace at her day of Marriage the new narrow stript feather bed with new blanketts & a rugg with Curtanes & Vallanes thereto belonging.

Further,I give to my Daughter Mary Pace one table and Six new Leather Chears to be possest with at the day my wife should Marry of Otherwise at her Death.


JONANE PACE

I give to my Daughter Jonane Pace a good Feather Bed & Furniture at the day of her Marriage & two Large Chares one Iron pott one Small Lookeing Glass & a Chest with Lock and Key which stands above stairs and two cows.

---

A connection is evident
between JOHN of Middlesex descendents
and PACE of Shropshire UK ancestry.

indicated by DNA tests.

Going a little further

surnames connected to
John Pace of Middlesex descendents
in Virginia and later Kentucky
are also names
found in Shropshire parishes
where PACE is also found.


The given names of children in the JOHN PACE of Middlesex family are similar to given names in the GEORGE PACE family of the same time period (1690s) in north Shropshire, along the Welsh and Cheshire border.
Click on the link
to look at the families of north Shropshire and nearby Staffordshire
in the 1600s
see - PACE in Shropshire
The DNA tests also seem to indicate this
other clues may be the surnames of BARNETT GROOM HARRISON LANE MADDOX SPENCER WRIGHT and others which were in SHROPSHIRE, and later in colonial AMERICA where PACE also showed up - Virginia Counties, later Kentucky, Missouri.
---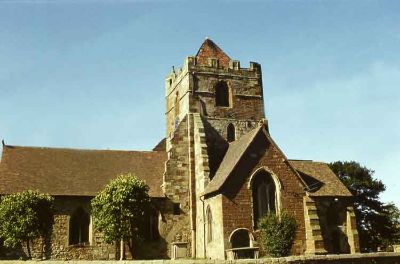 St.Peter's Church
Wrockwardine Shropshire

Christening parish of John Pace in 1665 who may have emmigrated to Virginia. If so, later Christened his own children at Christ Church in Middlesex County Virginia
JOHN PACE
Christened 22 Sep 1665 at
Wrockwardine, Shropshire
Father: JOSEPH
Mother: MARGARET
Read - ROY JOHNSON's web page on this subject
JOSUAH PACE
Christening: 07 JUN 1618
PREES, Shropshire
Father: ROWLAND PACE
JOSHUAH PACE
Spouse: MARGARETTE PALLMER
Marriage: 04 MAR 1653
High Ercall, Shropshire
NOTE:
the spelling of JOSHUAH is questionable.
A JOSEPH and MARGARET had three Christenings starting just after this 1653 marriage date. This name, in the records, is rather obscure. The first letter is a J, last letter looks like an H but in between is unclear.
There are very few PACE entrys
in the parish registers which, I feel, permits me to realize
JOSUAH JOSHUAH JOSEH JOSEPH
are one and the same person.
ROWLAND PACE
JOHN PACE
Christening: 24 APR 1615 Prees, Shropshire
Father: ROLAND PACE

GEORGE PACE
Christening: 24 AUG 1616
Prees, Shropshire
Death: 16 AUG 1617
Father: ROWLAND PACE

JOSUAH PACE
Christening: 07 JUN 1618
PREES, Shropshire
Father: ROWLAND PACE

MARRIAGE
JOSHUAH PACE
Spouse: MARGARETTE PALLMER
Marriage: 04 MAR 1653
HIGH ERCALL, Shropshire

2 ANNE PACE
Christening 02 NOV 1655
RODINGTON, Shropshire
Father: JOSEH PACE

2 JOHN PACE
Christening 22 Sep 1665
WROCKWARDINE Shropshire
Father: JOSEPH
Mother: MARGARET
P006621

2 GEORGE PACE
Christening 28 May 1670
PREES Shropshire
Father: JOSEPH
MARGARET PACE
Christening: 01 NOV 1620
PREES, Shropshire
Father: ROWLAND PACE
ELIZ PACE
Christening: 04 MAY 1623
PREES, Shropshire
Father: ROWLAND PACE
THOS. PACE
Christening: 18 JUL 1625 PREES, Shropshire
Death: 03 OCT 1625
Father: ROWLAND PACE
PACES Male
Birth: 20 NOV 1626 PREES, Shropshire
Death: 20 NOV 1626
Father: ROWLAND PACES