~ PACEY QUERIES ~
CLICK HERE
- RETURN to NEW QUERIES PAGE
---
From: pacysusan1877eastretfordlincoln@familysearch.org


Dear Gord

I read your message with great interest. I would very much like to see your Pace-Pacey pedigree have you anything that you could e mail me please. I am unable to get into a web site or internet from here. My g.grandmother on my dad's side was a Susan Pacy who married into the Tootell family. I have made a wee bit of progress on both sides, but am now looking for additional information. Perhaps what you have, I need. I shall look forward to hearing from you

Regards
Bridgette Pacy-Tootell,
Calitzdorp, South Africa

PS - I see you live in Canada. Did a branch of the Pacy family end up in Canada? What I am really keen to discover is the origin of this family. Some folk have told me that perhaps they came to England as part of the Huguenot movement at the time of the persecutions in France. There is a village Pacy in France which we passed through some years ago, and it seems historically, to have been the seat of the Pacy family in days of yore, the French Pacy that is.
---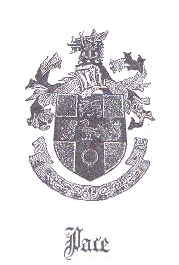 To: PACE-L@rootsweb.com

Pacey or Pacy in England has nothing to do with Italian. It goes back to the Sieur de Pacy who crossed the channel with William the Conqueror, and it is Norman French. Again this is explained in this section of the Pace Network. Pace in England was written in many different ways, as most names were in the old days: Pase, Pease, Pierce, Pacy, etc.

Roy Johnson
---
Subject: PACE / PACEY in England, Lincolnshire
Date: Tue, 14 Sep 1999 From: KatTh1125@aol.com

I feel like a lone sheep (PACEY) in a sea of PACEs. I found this website after reading that Pacey is a derivitive of Pace...saw that you were in charge of England Paces and here I am. As far as I know, my line is PACEY.

The first documentation of my Paceys is:

SAMUEL PACEY m MARY KIRKBY
16 October 1823 in Alford, Lincolnshire, Eng.
Samuel and Mary had 2 known children: LOUISA and FRANCIS;
Francis being born in Alford as well.

Francis married Hannah HAWTON/HOUGHTON
9 Jun 1852 in Alford. and had 10 children:
Louisa Pacey b 1852 Alford, Lincolnshire, Eng.
Sarah Pacey b 1854 Willoughby, Lincs
Samuel Pacey b 1856 Willoughby
John Pacey b 1859 Willoughby
Harriet Pacey b 1861 Willoughby
Eli Pacey b 19 March 1863 Willoughby
Henry Pacey b 1866 Willoughby
Mary Pacey b 1868
Fanny Pacey b 1870
Charles Pacey b 1872 Alford
Of these children:
#1) LOUISA m RICHARD WHITWORTH and lived most of their lives in Grimsby. Richard and Louisa had 6 children, one of which is my great grandmother, ELIZA ANN WHITWORTH b 5 August 1877 in Grimsby.

#6) ELI married twice m1) MARGARET BEVERIDGE 25 June 1890 Leeds; m2) ANNIE ELIZABETH SMITH 20 May 1893 Leeds. Eli had 2 known children with Margaret. This line was forwarded to me from a descendant of Eli's.

#7) HENRY: In my gr-grandmother's possessions was a memorial card for "Henry, beloved son of FRANCIS and HANNAH PACEY", who was lost at sea on 22 February 1888, off the smack, Rock of Ages. Henry was 23 at the time of his death. It is believed that Louisa would have sent this card to her daughter, Henry's niece in the US (my gr-grandmother, ELIZA ANN (Whitworth) TINDALL.
I am hoping that you have come across some other "PACEY" family names. I have two good photographs of LOUISA PACEY, one as a young woman and the other of when she was older.

Any help appreciated,
Kat Thomas, Hope Mills, NC, USA
E-mail :
KAT THOMAS
---
THE PEDIGREE PAGE
- LOOK FOR the PACEY name. Click on PACEY to return here.
Also mentioned in the Pedigree: - A JOHN PACE of LEICESTERSHIRE, is recorded as being the father of THOMAS and JOHN PACE. JOHN Sr. was married to MARGARET COLBY, daughter of WILLIAM COLBY and ALICE HOUGHTON COLBY, and granddaughter and heiress of HUGH HOUGHTON de HOUGHTON.
---
From: Siriuspace@aol.com
To: PACE-L@rootsweb.com
Date: Wednesday, November 10, 1999
Subject: [PACE-L] Pacy-England/US

SWeldood@aol.com asked the following question:

"I have an ancestor Harriet Pacy from England.
Is the name Pacy any relationship to Pace?"

Pacy and Pacey are believed to be early variations of the spelling of Pace in England. From what I have seen there are very few Paceys or Pacys in America compared to Pace.

There was an Edmond Pacy m. Franky Smith 10/5/1830 in Guilford Co, NC.
But this may be a misspelling as his father was Stephen Pace of Surry Co, NC.

There was a Charles W. Pacey b. 1833 in Stainby, Lincolnshire, England m. Ann Fincham, d. 1887 in Kansas. Charles and his brother James came to the US in 1870 and settled in KS. They were the children of Thomas Pacey and Elizabeth Tinckler of Lincolnshire, England

This came from their descendant,
Becky Pacey, at bekki@cybertrails.com

Gordon W. Pace

==== PACE Mailing List ====
---
MAIN page