A sketch of Derek from the local sports paper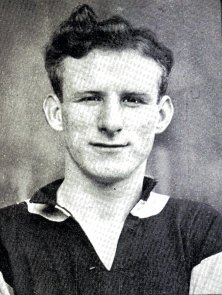 DEREK J. PACE 1932-1989
DEREK remembered - words of a fan - John BARNES

from notes of JIM EVANS - Local ESSINGTON Historian

Who sent me his words..... plus several pictures after I visited him at his ESSINGTON lock factory on my visit to England about 2005.
The same words are at - a biopic written by Jim Evans in August, 2000: -
It was inevitable that Derek Pace would have football in his blood, his father CHARLES had managed ESSINGTON VILLA in the 1930s, and his mother EMILY had played in an Essington Ladies team who played football to raise money for charities in the 1920s.
Derek was born on the 11th March 1932 and started school at Essington Junior School, his younger brother Ken was born in 1936, and tragedy struck the family when their father was killed in an accident at HOLLY BANK Colliery in 1939.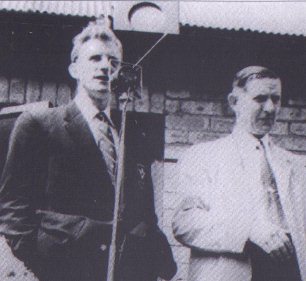 Derek moved to Essington Church of England School at the age of 9, he already had a passion for football. The school at Essington, without any sports field, was unable to provide Derek with the opportunity to play football, so he persuaded his mother to let him move to the National School at Bloxwich where football was an important part of the school programme, where he joined a near neighbour Dennis Adderley who was a year younger. Both lads quickly made their mark and were selected for the school team Dennis as goalkeeper and Derek at Centre Half. It was in their position the Derek captained Walsall Schoolboys team. At this time his hero was the great Wolves centre half Stan Cullis, Derek saw Stan make his last appearance for Wolves in the last match of the 1946-7 season, on a boiling hot 31st May. A win would have made Wolves champions – but Liverpool pipped them to it. In 1946 the National School entered a team in the Walsall Minor League and early in the season they defeated Shelfield Y C 12 goals to 1, fourteen-year-old Derek playing at outside right notching four, here he teamed up again with Dennis Adderley.
In his last year at school, Dennis had been selected for Walsall Schoolboys team in 1947-8 when they reached the semi final of the English Schools Trophy.
On leaving school, Derek went on to play for Bloxwich Scouts who played in the Bloxwich Combination. The League also included, Gate FC (New Invention), Essington WMC and Broad Lane WMC. If the Scouts team did not have a match, Derek would play for Bloxwich Wesley in the Walsall Minor League. In addition Derek also had a spell with Walsall Wood [Walsall Senior League] during the 1948-49 season.
Derek was signed by Aston Villa
from Bloxwich Scouts in September 1949 and almost immediately was called up to do his two years National service in the Medical Corps where he obtained the nicknamed "Doc".
Derek was rather on the small size for a centre forward, but was hardy and tough a player as one could hope to see, a real problem for defenders to cope with, but opportunities were limited with Villa, albeit scoring on his debut against Burnley on the 17th March 1951. he came out of the Army in June 1953.
In 1953-4 season Derek was one of seven centre forwards tried by Aston Villa following the departure of Trevor Ford to Sunderland. He played in 6 league games scoring 6 goals. Most of his appearances were in the Central League and Birmingham League teams, where he was a member of the Villa side that defeated Stafford Rangers in the final of the Staffordshire Senior Cup Derek scoring two of the Villas goal.
Derek played in 18 league matches in 1954-5 scoring 1 gaol and he made one appearance in the F A Cup scoring in ……………………… 1955-6 was a terrible season for the Villa three weeks from the end of the season Villa they were next to bottom of the league 3 points behind Sheffield United. But in the closing game it was Derek's goals that did a great deal to save Villa from relegation, they eventually finished third from bottom on goal difference and avoided relegation. In 1956-7 Derek played in 21 league matches scoring 6 goals and in 6 cup games scoring 2 goals.
After not getting selected for the Villa's 1957 cup final side. The following season he played in 12 games scoring 3 goals (He played in the Charity Shield side that lost to Manchester United.) before moved to Sheffield United in December 1957 after scoring 42 league and cup goals in 106 matches. At Sheffield he began to show a real opportunist trait, scoring 140 goals in 253-league appearance. [175 goals in 302 league and cup games] Was ever present when the club achieved first division status again, scoring 26 goals. He was United's top scorer for six seasons before moving to Notts County in December 1964, playing 29 matches and scoring 15 goals? He then moved to Walsall in July 1966, only playing 4 matches plus 1 as substitute, scoring one goal a flying header at Grimsby in August 1966, just over 15 years after his first ever league goal fir Aston Villa. In his career he scored a grand total of 233 goals in 444 games an average of one goal every 1.9 matches.
After retiring from football Derek became a sales representative for Churchfield Springs Ltd of West Bromwich and died on the 17th October 1989.
.... Jim Evans - Essington - August 2000